Reading time:

3

minute(s)
In order to succeed, Business Travel Agencies must adapt to a continuously evolving environment, delivering a service that helps their customers and travellers get the most out of business travel. Strong technology as a backbone, being at the forefront of innovation, understanding the changing needs of their customers, and moving quickly to meet them will help with this.
Amadeus has explored five trends that are shaking up the industry at the moment:
1. Customising Corporate Travel
Just like personal travel, Business Travel Agencies (BTAs) should recognise that business travellers need a personalised, tailored journey as part of their overall package. They must equip travellers with access to information and tools that help them enjoy stress-free and efficient journeys.
As content is aggregated, BTAs will be able to offer more choice to the individual travellers' profile and allow corporations to control what the traveller sees. In turn, this will allow them to manage costs for the corporation while creating a tailored experience right from the start.
2. Transparency at every touch point
Transparency in the travel industry means embracing a 'blockchain principle' that shows every single transaction in business travel (e.g. buyer, fleet operator, vehicle, driver, rider, location, routes, feedback, pricing etc.). This will allow BTAs to have insight into corporate travellers' complete journeys. This data will be vital in creating a personalised, tailored experience. It also means that corporations will have a record of every journey and be able to use this data for reporting, forecasting and identifying trends.
3. Millennials capitalize on the b-leisure trip
It is estimated by Expedia Group Media Solutions that 60% of business trips transform into 'b-leisure' (business with leisure) trips, with millennials making up a growing share of the workforce. A lot of the b-leisure travel spend will be done by millennials. Agencies that make b-leisure a possibility for this generation will be harnessing this pool of potential profit by understanding and accommodating their needs. This means that BTAs need to work with corporations on creating business travel trips that appeal to a wide range of traveller expectations e.g. flexibility on dates and travel preferences, and personalization in order to remain competitive.
4. Mobile first
Mobile technology is especially important in corporate travel.
Click To Tweet
With hectic and time-sensitive schedules, travellers want to be able to communicate issues and manage travel plans at the touch of their fingers. This requires the BTA's mobile platform to be fully optimized and connected. Mobile makes personalisation easier through mobile apps, gathering and using data, and sending targeted information.
5. Greater aggregation across the industry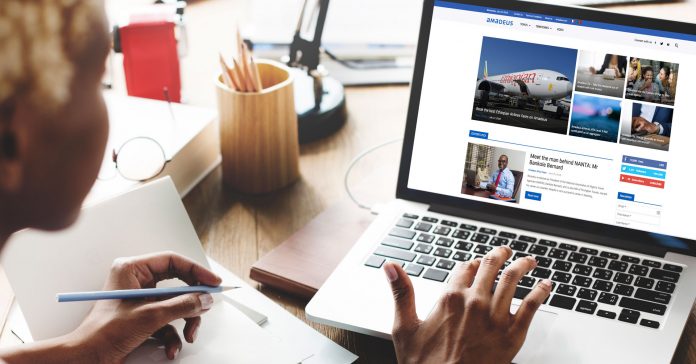 BTAs manage huge amounts of content on behalf of corporations – which hotel to book, picking the right flight and seat, and even choosing the right restaurant. As travel content becomes aggregated and centralized, BTAs will be able to access content more efficiently, without changing platforms. This ability will increase further with NDC, because it will give BTAs access to the individual's profile (including needs and preferences), and allow them to control what the traveller sees, creating a tailored experience from inspiration to trip.
The world of business travel is truly transforming every day. The ability to focus on what business travellers need will create opportunities for BTAs to continue to improve the business travel experience of their customers and deliver the 'personal touch' at all times.
For more information on top business travel trends, check out Amadeus' whitepaper The Future of Business Travel